Leslie Davis & Lyndsay Lamb
Real estate mavens, design visionaries, business owners, HGTV stars and twin sisters Leslie Davis and Lyndsay Lamb are known for transforming one tough-to-sell home after another. After building PNW-based Lamb & Co., into a successful, full-service real estate and home design company, word of the twins' talent and exuberant characters spread around the entertainment industry. Leslie and Lyndsay soon landed the incredible opportunity to have their own HGTV show – Unsellable Houses! The sisters' talent for helping homeowners sell their lifeless, "unsellable" homes shone brightly on the big screen, helping them quickly become go-to experts for homeowners, designers and DIYers around the nation.
Appearing Friday, April 5 & Saturday April 6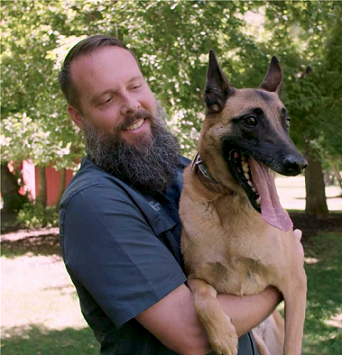 Dog training Elite of Central Kentucky is proud to present Tom Smatlak and his dog, Bruno from Dog Training Elite. Tom will demonstrate basic obedience, advanced obedience and personal protection. He may even throw in a few tricks. If you love dogs and want to see what you can expect when you train your dog with Dog Training Elite of Central Kentucky, serving Lexington and Louisville, you won't want to miss his demonstrations on stage. Times to be announced. Stop by our booth, # 1048, and see all of the different programs that Dog Training Elite of Central Kentucky has to offer, including service dog training! Visit our website at www.dogtrainingelite.com/lexington
Lauren Simmons - Browning's Farm & Flower Truck
Lauren Simmons, owner of Browning's farm and flower truck (along with her husband Drew who prefers to be behind the scenes) will be demonstrating how to best arrange florals for a show stopping centerpiece for your next dinner party or event. Lauren is an Ag teacher by trade, and is now farming full time as a first generation homesteader. But don't let the wrestling of newborn baby calves, milking goats, and baking sourdough bread full you, she got her start designing high end wedding florals and popping up Browning's flower truck all over central Kentucky. Her skills include honing in on what it means to curate a welcoming environment. I invite you to join her on stage for this informative presentation on a beautiful, asymmetrical centerpiece that is easy to design. She will also offer tips on budget friendly florals to purchase and designing throughout the seasons.
Jeanne Sallee, Interior Designer
Carpenter Cabinets and Design
Jeanne Sallee has been designing and remodeling for Central Kentucky residents for 30+ Years. As a professional Interior Designer, Jeanne will share the top design tips used when remodeling kitchens. She will share photos of real projects and how they were designed! She will also discuss how good design and planning will help you achieve a beautiful, functional kitchen that will stand the test of time! Stop by booth #313 to learn more about Carpenter Cabinets and Design
**All seminar attendees will receive a $500 coupon toward custom Amish kitchen cabinets from
Carpenter Cabinets and Design!!
Come see her presentation.